Rishikesh Adventure
Situated in Uttarakhand, where the Great Himalayas majestically overlook the city, Rishikesh is home to plenty of adventure, exciting and fun-filled activities. Be it trekking, bungee jumping, kayaking, body surfing, rock climbing, rappelling, paragliding, yoga and meditation. But it is the River Rafting which is the ultimate crowd puller!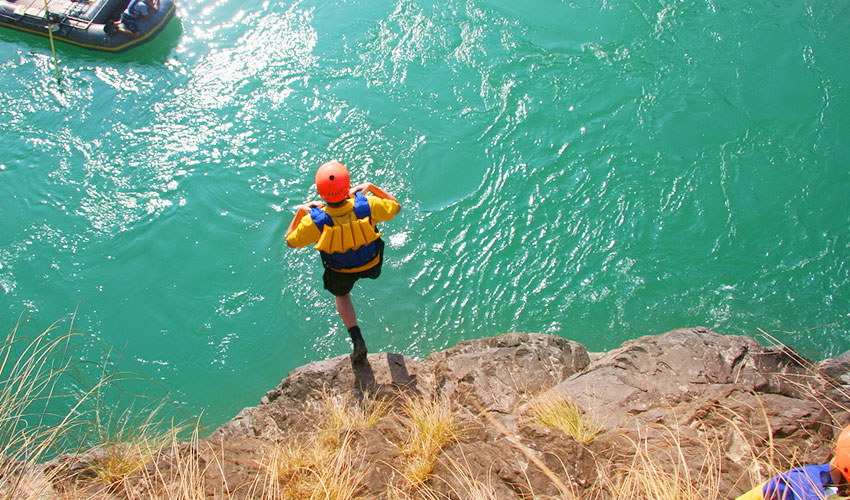 RIVER RAFTING
What makes camping in Rishikesh unique and most cherished one, is the River Rafting in Ganga river. Adventure junkies flock Rishikesh every year, just to experience this wonderful sport in this nature-blessed destination across India.It is an experience in itself to bask in the morning sunrise emerging from behind the tall hills as you hit the rapids of Holy Ganga!
Rafting in Rishikesh
Considered as the River Rafting Capital of India, Rishikesh is the most sought-after destination for white water rafting, attracting national as well as international adventure junkies. Even Brad Pitt, the acclaimed Hollywood actor was drawn to this mighty abode of rafting a decade ago! The 16kms long stretch, from Shivpuri to Laxman Jhula is one of the most popular rafting stretches among other starting points viz. Kaudiyala (35kms), Marine Drive (25kms) and Brahmapuri (9 kms).
The Shivpuri stretch incorporates grade 1 to 4 of rapids and are curiously named Roller Coaster, Return to Sender, Tee Off, Double Trouble, Three Blind Mice, Golf Course and many more! It is best to explore these rapids from September to June, when the weather is pleasant and best suited for rafting.
About River Rafting Activity
River Rafting is an outdoor, recreational activity performed using a raft to sail through untamed waters. Highly popular among adventure sport lovers, river rafting has gained immense popularity in India. River rafting is usually done on different degrees and rapids of waters, providing an adrenaline-rush to the performers. The varied water currents and topography involve a great degree of thrill and dare, which makes this sport highly popular among adventure seekers.
Tips for River Rafting
Know the River Grade
Rapids are widely graded as per the international standards. These are:
Grade I: Fast Flowing with Small Ripples
Grade II: Easy
Grade III: Difficult
Grade IV: Very Difficult
Grade V: Extreme
It is advised that basic to medium skills of swimming are required for grades I to III. It is however, highly recommended that you possess a decent experience of river rafting before attempting for rivers falling under grades IV and V.
Life Jackets
Usage of life jackets is mandatory. Also, wearing a life jacket is just not enough; you have to ensure that all the buckles are clipped and the jacket should be snug-fit to your body. It is advisable to take the help of a rafting professional or instructor while wearing your life jacket.
Using Protective Gear
While doing river rafting, one must always wear proper protective gear, especially the helmet. No matter what grade river you choose for rafting, it is strong recommended to put on a helmet.
Brace Yourself in the Raft
You must always keep yourself firmly planted in the boat/raft. The 3 points of balance are: feet, seat and paddle. Keep your feet tightly tucked under the air tube (in raft) in front of you. For best balance, sit on the outer rim of the raft. Sticking your paddle in the water, astonishingly, provides extra balance to you in the raft!
Listen to your Guide
Never let the adventure adrenaline challenge your instincts. The guide always points out safety options. So do not become the captain of the ship and only follow the instructions of your guide. Moreover, people tend to get overconfident and not only risk the life of self but also for others too. Do not take up things in your own hand and do as instructed by the raft guide.
Eligibility
The minimum age for performing White Water Rafting in Rishikesh is 14 years and must be accompanied by an adult.
It is very essential for the rafter to be in a healthy and sound state of mind.
Wear all the necessary safety and protective gears as directed by Rafting coordinator
Should have basic learning of swimming. Though the participant will be given safety jackets
Should be able to enter and exit the raft independently
BUNGEE JUMPING
Known as the fuel for adrenaline junkies, Rishikesh boasts of having the country's highest bungee jumping point, which is operated by experts with ample safety measures in place. The jump platform, which is located at Mohanchatti, has been designed by a team technically qualified jumpmasters from New Zealand. The jump height is 83 metres and the spot is located at a distance of approximately 50 kms from Rishikesh, which can be reached by public transport or shared taxis.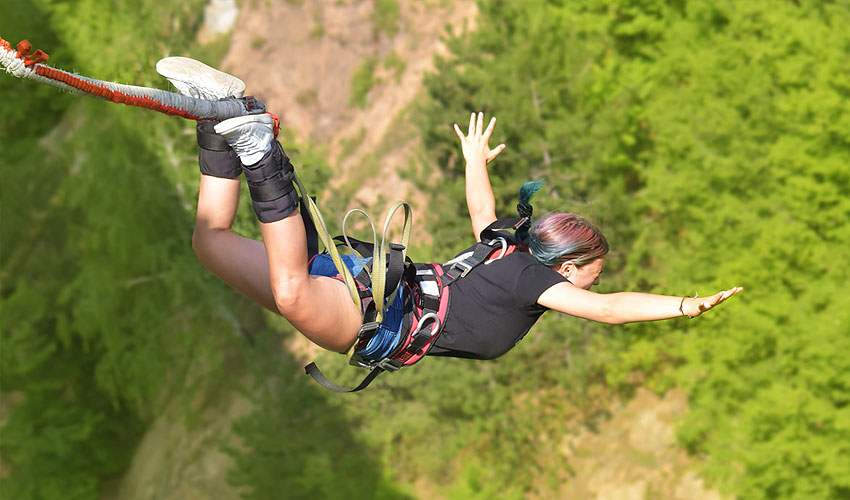 About Bungee Jumping
Bungee jumping is an adventurous sport, performed when you jump off a height while being attached to an elastic rubber cord; which in turn is connected to a bridge or a jump station. The rope is designed to stretch than its actual length, enabling the jumper to bounce back up when the rope has stretched all the way to its maximum capacity.
Practical Tips for Bungee Jumping
Let the professionals help you in putting on the harness.
It is advisable to look straight, and not down, while taking the jump.
Abide by the instructions imparted by the jump instructors and safety professionals.
Wear comfortable clothes, not very loose clothes.
Do not overeat before the jump.
Considering the extreme nature of this sport, it is advisable that persons with following medical conditions do not attempt to perform bungee jumping.

Epilepsy
Neurological disorder
Heart condition
High blood pressure
Back or neck injuries
Asthma
Pregnancy
Osteoporosis
Recent fractures or dislocation
Eligibility
Age of the jumper should be between 12 and 45 years preferably.
The person must weigh between 35 and 110 Kgs.
PARAGLIDING
Located beautifully amidst tall mountains, Rishikesh makes an amazing destination to experience paragliding. Flying over the sparkling waters of Ganga and exploring the natural beauty of Rishikesh from the sky, paragliding here is a special treat for adventure lovers. Air Safari Rishikesh offers four types of paragliding experiences, which are unique and distinct from each other. The paragliding activity takes place from September until June; and is subject to favourable weather conditions.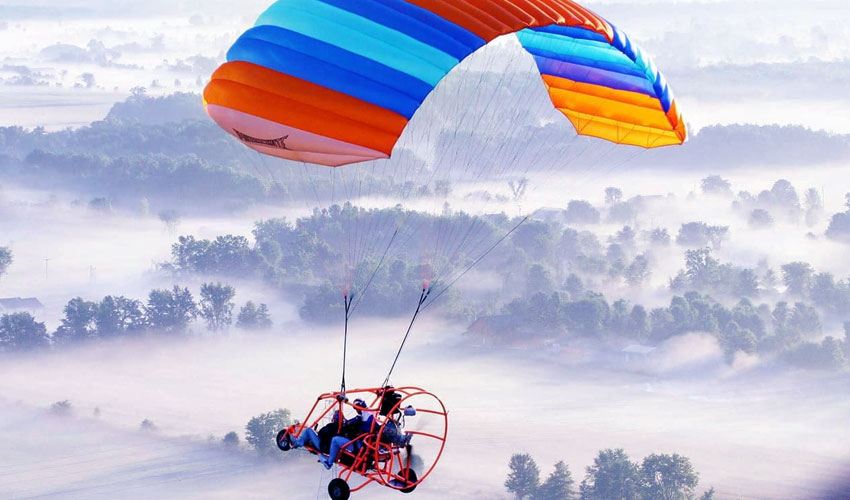 About Paragliding
Located majestically amidst tall mountains, Rishikesh offers an exceptional sight of the Himalayan Mountain Range. And to witness this beauty of nature, paragliding is the most sought after experience that adventure lovers tend to indulge into.
Paragliding in Rishikesh is an enchanting experience which leaves the adventure lovers in awe of the picturesque scenes of mountains, landscapes, rivers and flora while gliding above these in pure, energetic air. Paragliding in Rishikesh can be enjoyed even by the beginners, who do not have prior experience to similar adventure sports. At Rishikesh, paragliding is conducted by qualified and trained operators, who ascertain that your experience is remarkable and hassle-free.Kunjapuri has turned out to be a best and popular spot for paragliding in Rishikesh.
Powered or motorized paragliding at Rishikesh is also a favourite among adventure seekers. The powered parachute, also known as paraplane, is a type of ultralight aircraft, which consists of a motor, wheels and parachute. The paraplane flies at an average speed of 40 to 60 kmph, and the operating height ranges between 500 and 1500 feet.
While you are at Rishikesh and want to indulge in paragliding, you must know that weather plays an important part in this activity. Summers and winters are the most preferred times of the year to experience paragliding in Rishikesh, September to June being the peak time. Also, you must ensure the following safety precautions before you indulge in paragliding at Rishikesh.
Let the professionals help you in putting on the harness.
It is advisable to look straight, and not down, while taking the jump.
Abide by the instructions imparted by the jump instructors and safety professionals.
Wear comfortable clothes, not very loose clothes.
Do not overeat before the jump.
Considering the extreme nature of this sport, it is advisable that persons with following medical conditions do not attempt to perform bungee jumping.

Undergo training session with an experienced instructor
Check all the equipment like flight suit, helmet, harness, canopy and glider
Take extra care during launch and landing
Broadly, organizers of paragliding activities in Rishikesh have not set any limit of age to perform this adventure sport. However, in general, paragliding is best suited for people above the age of 11. Men and women with reasonable fitness can indulge in paragliding at Rishikesh.
KAYAKING
A must-try for all the adventure junkies, Kayaking in Rishikesh lets you paddle across varied rapids of the Ganges in your kayak. The specially designed kayaks include a double blade paddle, which brings speed to your ride, as the paddle accelerates the move.
The challenging rapids and graceful flow of the river are the main reasons why Kayaking in Rishikesh has been garnering a lot of interest among adventure lovers. Even if you are a beginner, you will be able to enrol in short-term courses offered by kayaking experts in Rishikesh, which will familiarize you with operating the paddles, turning strokes, halting and maintaining balance in the kayak. One may find the tutorials bit tricky but it is purely an engaging sport in Rishikesh. The duration of this activity is 4 hours.
During Kayaking at Rishikesh, you will also be provided with best-in-class kayaking gear including life jackets. The experts and instructors will ensure that your experience is safe as they will provide information about the do's and don'ts before you hit the waters in your kayak.
About Kayaking
Kayak is a specially designed boat, like a canoe, used to paddle across the river or rapids. Differing from a canoe, a kayak's interior contains a double paddle blade to stroke the current of the water. On most sides, kayak is in a closed form, only opening a little for the person to fit in comfortably. The lower part of the body stays hidden in the boat due to its structure, and the person can stretch out his/her legs in that closed portion. Generally, kayaks come as single seater boats. However, there are kayaks designed to fit 2-3 persons as well.
Safety Tips
Physical stamina and fitness are important to undertake kayaking.
One must choose appropriate rapid grade, depending on one's age and ability.
Life jacket, paddle and dry bags to store personal things are some of the important things to carry while kayaking.
Do not overturn the kayak. Follow the expert's instructions to avoid such mishaps.
Eligibility
The activity requires the person to be minimum 15 and less than 45 years old.
FLYING FOX (ZIP LINE)
This exhilarating adventure sport is a must-try while you are camping in Rishikesh. The sport will let the enthusiasts get harnessed to a wire, allowing gravity to roll you down upto a height of as low as 7 metres above the river flowing under. This thrilling zip can accelerate up to the speed of 140 to 160 kmph, and then slowly reels back, enabling the fresh air to calm your adrenaline, which was pumped up seconds before zip lining downwards.The sport can be tried at Shivpuri, which is at a distance of 16 kms from Rishikesh as well as Mohanchatti, which is situated at a distance of 50 kms from Rishikesh.
Eligibility Criteria
The minimum age criteria for performing bungy jumping is 12 years.
The performer should not weigh below 20 kgs and above 130 Kgs.
The performer should be medically fit and determined from within
He/She should not be suffering from any of the given medical conditions: high blood pressure, pregnancy, asthma, neurological disorders, heart conditions, etc
It is advised to wear comfortable clothes and not too tight or too loose clothes.
CLIFF JUMPING
Rishikesh is filled with cliffs of varied heights, as it falls in the Shivalik region. This has led to the rise in the popularity of Cliff Jumping, an adventure sport bucket-listed by adventure enthusiasts. In Rishikesh, you can undergo this sporting activity 2 kms before the fascinating Lakshman Jhula from Brahmapuri wearing a life Jacket and helmet and jumping into the River Ganga from 25 to 30 ft height.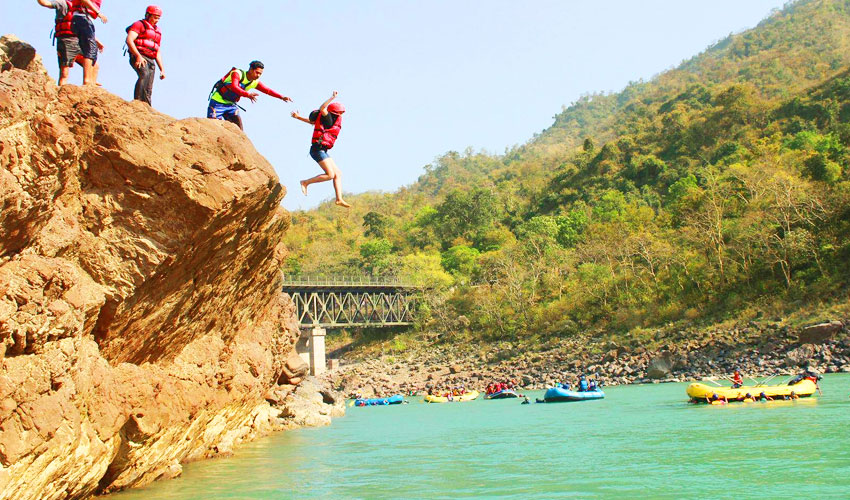 Eligibility Criteria
The minimum age for performing Cliff Jumping is 12 years
The activity is not for the ones who are height phobic or hydro-phobic
The person should not be suffering from medical conditions: pregnancy, high blood pressure, heart problems, etc
ROCK CLIMBING
Located at the foothills of Himalayas, the cliffs and hills in Rishikesh provide a great opportunity for enthusiasts indulge in rock climbing. This activity is offered and monitored by a team of certified instructors , making it an exciting and safe adventurous sport.
TIGHT ROPE SKY CYCLING
Isn't the name thrilling and giving you goosebumps? Yes, Rishikesh is the only place in India wherein India's Largest and Longest Tightrope Sky Cycling is done. A splendid view of Shivalik Range and fresh Holy Ganga Water makes this activity a must for adventure seekers. It is an approximately 31 minute activity wherein the person cycles in the air right on the rope and secured with the safety equipment. Feel the cool breeze as you cycle 54 feet above the ground and travel 480 meters back and forth.
With so much to explore, Rishikesh truly is the Adventure Capital of India which encompassed a plethora of activities to enjoy and cherish for a lifetime.